Laser therapy is the use of light from a Low Intensity Laser Diode or an array of Superluminous Diodes to eliminate pain, accelerate healing and decrease inflammation. LLLT is also known as cold laser, low intensity laser therapy or photobiomodulation. Laser therapy does not heat or cut tissue, unlike high intensity lasers. Many pharmacological treatments mask pain or only address the symptoms of the disease; laser Therapy treats the underlying condition or pathology to promote healing. This means that the treatments are effective and the benefits of laser therapy are long lasting.
A treatment overview:
Professional assessment
Review of the recommended treatment plan
Review of the expected outcomes
Begin your treatments
Communicate regularly with your health care professional about progress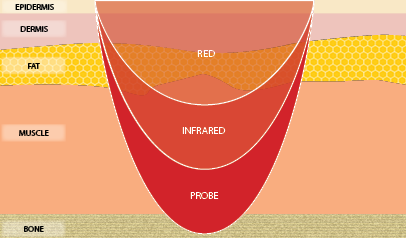 Clinical Benefits
Eliminates pain
Reduces the need for pharmaceuticals
Restores normal range of motion & physical function
Non-invasive & non-toxic
Highly effective
Cure rate > 90%
No known adverse effects
Easily applied
Physiological benefits
Increased production and release of:

Endorphins
Cortisol
Growth hormones
ATP

Increased protein synthesis
Increased angiogenesis
Enhanced immune response
Complete the form to secure your booking or for further enquiries.
Learn about the conditions BioFlex Laser Therapy treats